I've pondered for a good long while just why there would be such a push to abandon oil & gas. What's the real big benefit? It isn't cheaper goods, services, and transportation. It isn't "saving the planet" as there is no Global Warming.
So why all the push to move everyone to electric cars and trucks, to electrify all the oil & gas using parts of the economy? Why the electrification big con?
So first look at who is pushing it and where they are from. We know the 3rd World economies have been bought off to get on side with the program. Promised $200 Billion / year or so from the USA Sugar Daddy. (Trump, thankfully, has saved us from that bit of the con via canning the Paris Agreement.) Russia signed up for it thinking they'd get some bucks too (or maybe some nice technology transfers) but Russia has never believed in the Climate Con. They have stated they are preparing for cold.
That leaves Japan, Europe, and North America as the big remaining players in the global economy, plus a pile of OPEC oil sources – and the attendant banked $Billions.
The USA is self sufficient in oil, gas, and coal. We've been pushed, reluctantly, and via a Green Lie into tepid "me too" following. Europe has been doing the leading. Why might Europe want to get the world off of oil and gas, hmmm?
Found that last image at Tallbloke's here:
https://tallbloke.wordpress.com/2018/10/12/bp-ceo-sanctions-would-virtually-shut-down-the-energy-systems-of-europe/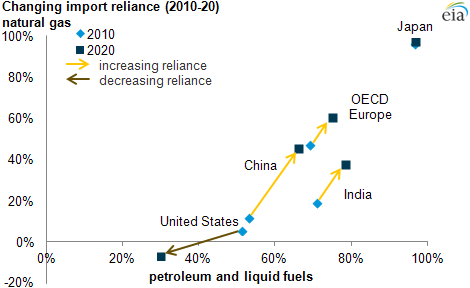 Image from: https://www.eia.gov/todayinenergy/detail.php?id=14691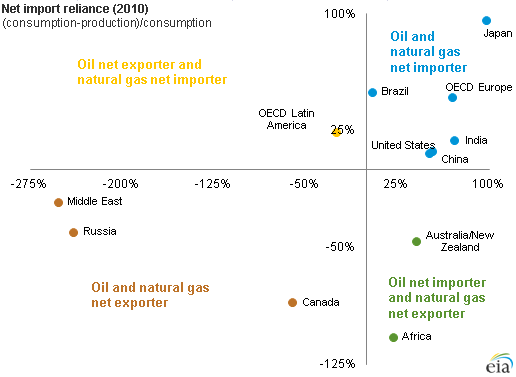 So let's say you were horribly dependent on imported oil and gas, so much so that it drained massive amounts of your money. Further, if you were to stop using it, the costs to produce goods and services would rise dramatically. That would make your already way expensive products even more expensive and non-competitive What to do, what to do…
Perhaps try to find a way to make your competitors in the global markets use the same "alternative" energy sources? But you can't just tell them to raise their cost basis for everything they make to insane levels just to please you. No, you need a reason why they just can't use all the energy supply they have. Something horrible that will happen, something that's an existential threat to them if they do.
How about a con where you convince them it will destroy the planet and end life as we know it? Think that might work? Gin up some "science" to "prove" it, then get everyone to sign on to a treaty requiring them to use the same crap energy sources you have to use.
But that would just crush the 3rd World countries. OK, need to get a "mark" to pony up the bribe money to buy them off. Soak the USA for a few hundred $Billion a year. Yeah, that ought to cover it…
True? I don't know. Passes Occam's Razor? Oh yeah…
Now, for seasoning, what about this speculation:
There are rumors that the Saudi Oil fields are pumping a lot more water these days. That the light crude is showing signs of being an old field near end of life. They have other fields, but heavier and sour in comparison. So the Saudi's just might be thinking it's time to branch out into other money supplies.
Europe, knowing the big oil supply may be ramping down in a decade or two need to cut over to other energy supplies, and the Saudis need a new money supply; but presently hold most of the investment capital in the world. So…
Talk to the Saudis. Sell them on the notion of using all that lovely €Money from their banks to build all the new energy supply. They stay in the energy business and Europe gets some capital recycled, a bunch of jobs for their 20% unemployed, and everyone is happy. Well, except for the rate payers, but who cares about them…
Just need to get those pesky Americans to buy the Climate Con and you're golden…
The part I don't see fitting this speculation:
Europe has coal. Are they just not using it to sell the con, or what? Is it that there is so little coal in Europe it can't replace all the oil & gas?
Nuclear. It works. It is really the only long term energy source for stable dispatchable cheap electricity. France & Japan show you can run modern economies on it. Just nuclear paranoia or what?
So that's my muse for the day. Rampant speculation that the Climate Con is just a way for Europe to fix their oil & gas addiction and import problems without being at a competitive disadvantage in trade. The whole push to electric cars and all is just a way to solve the European oil & gas import problems. Perhaps with a bit of "keep Russia out" frosting on top.
Subscribe to feed