I think I need to get a lot better at Spherical Geometry…
This paper:
https://mathstat.slu.edu/escher/index.php/Spherical_Geometry
has caused me to question my intuition about the geometric 'shape' of 2D regular polygons when projected onto a sphere. In particular, I've come to understand that as the projection covers more of the sphere, the angles at the "corners" becomes increasingly large.
Eventually, when one "polygon" covers an entire hemisphere, the "angles" at each vertex become 180 degrees. Essentially, a straight line at the equator. Yet, conceptually, it is just the limit case of increasing your one polygon incrementally over the globe.
Degenerate Regular Tessellations

Tessellation by two 12-gons with 180° "corner" angles.

Two strange "degenerate" types of regular tessellations show up in spherical geometry. The first is by polygons with corner angles equal to 180°. A 180° corner doesn't look like a corner at all, and a regular n-gon with 180° corner angles simply looks like a hemisphere with n evenly spaced dots on its edge for the "vertices". Two of these fit together to cover the sphere. One can argue about whether this should be a polygon at all, but we'll see that it fits very nicely in a larger picture of regular tessellations and is worth including.
One could do the same thing with a regular hexagon of 180 degree angles…
Now a hexagon, even a "degenerate regular tessellation" one, can be divided by triangles (even spherical ones of greater than 180 degrees interior angles sum). This can result in another hexagon formed in the interior: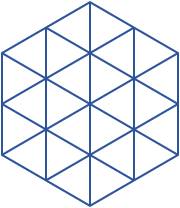 Which could be further so divided…
(For a nice mind twist, try to spot the 7 hexagons inside that tri-tiled hexagon. If you include the outer, larger, hexagon, I get 8 total. Can anyone visualize more somewhere in that image?)
Now it's a bit of a stretch, but what I suspect from this is that one could in fact tessellate the surface of a sphere with spherical hexagons via a process somewhat along those lines.
Or, note that each set of 2 triangles around the interior hexagon, make a regular rhombus. Why not tessellate the globe in 'circles' of regular spherical rhombus shapes in nested "spherical hexagon" rings?
At the pole, the 'regular hexagon' approximates the spherical hexagon. The next ring out would be a little more distorted (by sin(theta) I think…) in every concentric ring. At the Equator, a hex tiled cylinder approximates reality. Hexagons increasingly distorted as they are projected onto the sphere as you move away from the equator.
In between those two, a series of distorted spherical hexagons would be needed to bring the two into agreement at the merge. Essentially, at the pole, each added ring of hexagons is 2 x the next innermost ring. At the Equator, each ring is equal to the next equatorial ring. In between, you must grade from A=B to A=2B in proportion to Sin(theta)… This can be done via variation in the number of equal vs 2x rings produced at each increment. These "hexagons" would be distorted spherically by the extent to which the N vs S 'sides' are required to be different lengths by the sphere, and by the extent to which some rings would get 2 x members and others equal number of members.
In the end, you would have a fully hex tiled world, but not REGULAR hexagons and without special adjustments of sizes, not equal area.
So which is worse? Having regular area and shape, but irregular lat / long as your sphere has 12 pentagons and lines of straight runs of hexagons go in all sorts of directions? Or having hexagons where their sides align with Lat and Long lines, but spherical shape distorts them and their areas are somewhat variable.?
Which "irregularities" are easiest to deal with? Alignment or size & shape?
I'm hoping a bit more exposure to "spherical geometry" will improve my intuition about it… I'm also finding that spherical geometry is just weird in some ways.
https://en.wikipedia.org/wiki/Spherical_geometry
http://www.math.ubc.ca/~cass/courses/m308-02b/projects/franco/index.htm
Interestingly enough, it was also Ptolemy and not Christopher Columbus who discovered that the earth was spherical and not flat, and stated his rationale in the Almagest 1300 years before Columbus sailed around the world:

"If the earth were flat from east to west, the stars would rise as soon for westerners as for orientals, which is false. Also, if the earth were flat from north to south and vice versa, the stars which were always visible to anyone would continue to be so wherever he went, which is false. But it seems flat to human sight because it is so extensive."

Like geometry and geography, the worlds of spherical geometry (used in geography) and planar geometry (commonly taught in most geometry courses) are closely related and yet extremely different.

Anybody who has completed high school level geometry (or to some extent, elementary geometry) knows that in Euclidean or planar geometry, two parallel lines never meet, the sum of the three angles of a triangle add up to 180°, and the shortest route to get from one point to another is a straight line. In the world of spherical geometry, two parallel lines on great circles intersect twice, the sum of the three angles of a triangle on the sphere's surface exceed 180° due to positive curvature, and the shortest route to get from one point to another is not a straight line on a map but a line that follows the minor arc of a great circle. Maps provide a way of translating the spherical view of the world to a planar view, by projecting the Earth's topologies and locations to a flattened surface using Hammer, Mercator or cylindrical methods. A consistent and standard representation that minimizes projective distortions is yet to be established.

The discovery of spherical geometry not only changed the history and the face of mathematics and Euclid's geometry, but also changed the way humans viewed and charted the world. Using this new knowledge, explorers and astronomers used the circular path of stars to navigate the earth to discover new lands and reason about the cosmos.
I think I need to think more spherically about what I think about…
Subscribe to feed