This started out to be a comment in W.O.O.D., but got long enough I decided to just put in the extra work to make it a posting.
I've started making a trial "Survival Victory Garden" at my new home. This isn't something that looks like a garden at all. In fact, I'm going out of my way to make it "Edible Landscaping" that looks like inedible decorative plants.
In W.O.O.D., David A. pointed to an article about The Netherlands trying to destroy farming and deliberately reduce the food supply:
https://chiefio.wordpress.com/2022/07/20/w-o-o-d-20-july-2022/#comment-158916 (h/t David A.)
[…]
https://thecovidblog.com/2022/08/03/the-netherlands-is-now-ground-zero-global-famine-as-government-bill-gates-create-phony-nitrogen-crisis-to-destroy-the-countrys-agricultural-sector/

I did not know "The Netherlands is the second-largest agricultural exporter in the world after the United States. It is the largest meat exporter in the European Union."
I did not know that in September 2021 Bill Gates apparently spent about 600 million purchasing a company that would immensely profit from the current government actions. Yet more evidence that they really are out to do great evil.

The null hypothesis of assuming disastrous acts as being the result of stupidity, versus evil, may now be reversed.
Same playbook as took down Sri Lanka (ban nitrogen fertilizers) but with the addition of drastically reducing farm animals too. Same thing being started for Canada. Expect it to roll out globally (to include Australia and the USA eventually…) So best to prepare for it. I've already stashed 2 large bags of fertilizer and expect to raise that to 4 shortly. Enough for several years of gardening if used sparingly and with "waste" composted to recycle the stuff. Planting plenty of beans also has them putting nitrogen into the soil and compost pile. So longer term they are the nitrogen fertilizer source.
FWIW:
I've got several Sweet Potato plants in the ground and a few more growing great guns in pots (to be planted out "soon"). Sweet Potatoes are special in a couple of ways. One is that they can be started from "slips". Basically once you have one growing, taking little bits of the vines and rooting them gives you more plants… And that first one can get started just by putting a little tuber in a pot. Then the leaves are edibles too.
Sweet Potato plants don't like cold, so I'm hoping they can grow more like a perennial here in warm Florida. I'd like to get a supply of tubers below ground. Even if they somehow become undesirable as food, they form the basis for new crops. ("splits" or getting fibrous or flavor changes? Don't know what happens over a couple of years.)
The potential for rapid exponential growth of sweet potato supply is huge. It is also easy to grow, has few pests, and tastes pretty good just roasted or as fries.
There's a lot of places say to slice the tuber in half and put it in water or potting soil. That's OK, but sometimes they just rot. I had several grow just fine by simply sticking them in a pot of potting soil and keeping it damp. But I also chose the runts out of the grocery store so wasn't wasting a 2 lb tuber either…
https://www.thespruce.com/how-to-grow-sweet-potatoes-in-the-home-garden-1403479
Also, I've got about a dozen Runner Bean plants going. 1/2 dozen in the ground, another 1/2 dozen in pots to be planted out "soon". A Runner Bean plant can make a LOT of green leaves, young pods can be treated like green beans (older pods a bit tough and fibrous…) They make a big bean, about 1/2 tsp per bean. Making chili with them, you get about 1 bean per spoon full of chili ;-)
I've had vines of these grow 10 feet + up a bamboo tee-pee in a 4 foot garden square. A 4 x 4 x 10 foot cube of greens is a LOT of greens!
https://hort.extension.wisc.edu/articles/scarlet-runner-bean-phaseolus-coccineus/ has some nice pictures, like this one: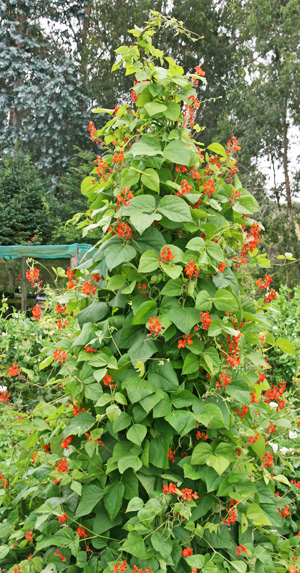 Scarlet Runner Bean, Phaseolus coccineus

Scarlet runner bean, Phaseolus coccineus, is a tender herbaceous plant native to the mountains of Mexico and Central America, growing at higher elevations than the common bean. By the 1600's it was growing in English and early American gardens as a food plant but now is more frequently grown as an ornamental for its showy sprays of flowers. Unlike regular green beans (P. vulgaris) this is a perennial species, although it is usually treated as an annual. In mild climates (zones 7 – 11) it a short-lived perennial vine, forming tuberous roots from which new shoots sprout annually in areas with frost where it is not evergreen. In Mesoamerica the thick, starchy roots are used as food.
I'm hoping it is perrenial here, and I get to try the roots too ;-)
BOTH of those plants have edible leaves. This matters a lot in a Survival Food situation as you start to get lots of green leaves about week 2 or 3. Way faster than most traditional garden foods. They may not be the most flavorful food ever, but a "mess 'o greens" will keep you fed. And "bland is good" for survival food as it can be flavored in many different ways from your spice cabinet… or mixed with other foods. They rival the radish in their potential to be "first food" in 20 to 30 days.
A pint jar of dry beans can be rapidly producing bushels of "greens" via planting them instead of boiling them. At about the 3 week point, you can harvest 1 leaf / plant (leaving plenty of other leaves for the plant to grow more…. so about 1 out of 4) and have some kind of food. By a couple of months, the long vines are making buckets of leaves…
i'm planting sweet potatoes and runner beans, alternating, around my back yard fence. This will cover the fence, look nice, and potentially be a couple of hundred feet of edible landscaping.
So what I'm doing now is a trial of that. Just way overplanting Runner Beans & Sweet Potatoes to see just how much how fast, and to find out if Florida has bean weevils or not… (In California, after a year or so, tiny little bean weevils got into my garden. Harvested dry beans would end up full of holes as the eggs hatched and the suckers would drill about 1 mm holes through the beans as they lunched on them. Freezing harvested dry beans for a week or so would prevent that by killing the eggs laid on / in the beans.
Climbing "pole beans" of the regular sort can also be used this way as their leaves are also edible (you could do it with bush beans but they are kind of small plants…).
Lima Beans have "issues" with this due to cyanide. Garden varieties of beans if cooked are OK, but I don't know how much might be in the leaves:
https://extension.oregonstate.edu/ask-expert/featured/should-i-worry-about-cyanide-lima-beans
There are both low cyanide and high cyanide varieties, and the amount of cyanide made in the leaves varies by enough to change how much bugs like to eat them:
https://pubmed.ncbi.nlm.nih.gov/19424497/
But prolonged cooking can destroy cyanide (which is in many other food plants too….) so if extremely desperate they might also be usable in the same way.
FWIW, the bean weevils never bothered my Lima beans… So I like having some Lima Bean seeds just so that if I get an attack of bean weevils I have some beans that survive. Christmas Limas are nice and make big vines ;-)
https://www.seedsavers.org/christmas-lima-bean
Jackson Wonder also grew well for me. They are a bush type (so no trellis needed) and generally bush types produce sooner than pole types, but for a shorter period of time. (I think it's a good idea in a survival situation to plant some bush type and pole type at the same time, so the bush type give a faster first crop, then later can be replaced with other plants for a longer harvest ) Jackson Wonder are a pretty red when fresh, but buff colored when dry.
https://www.victoryseeds.com/bean_lima_jackson-wonder.html
I'm also starting several other tubers that don't look like food. More on them later. Some have high oxalate leaves and some oxalate in the tuber, so need "preparation" in how the tubers / corms are used. One or two look a lot like the Elephant Ear decorative plant. So essentially are a hidden food garden that requires knowing the right way to prepare them to make it edible. These I can plant in the front yard and nobody will be the wiser ;-) Malanga, for example. Though I'll need to be careful about putting it where dogs can find it:
https://wagwalking.com/condition/malanga-poisoning
What is Malanga Poisoning?
The malanga can grow up to eight feet tall and about 5 feet wide in its native land of Africa. However, in the United States, they are not able to flourish in any of the states grown outdoors, although the malanga can be a great indoor plant. Those with dogs should always keep the malanga out of their reach because they tend to like to chew on plants. If you believe your dog has eaten part of a malanga, you should see a veterinary professional even if there are no symptoms yet.

Malanga poisoning is a moderate to severe condition caused by the ingestion of the malanga plant, which contains insoluble calcium oxalate crystals. Biting into or chewing part of the malanga plant produces immediate pain and burning in the mouth as the crystals (in bundles called raphides) puncture the soft tissue. This can cause your dog to vomit, not be able to swallow, and your pet may even have trouble breathing due to the inflammation. In fact, although it is not common, some dogs have such bad swelling that they cannot breathe at all. The oxalic acid in the plant also decreases the availability of calcium, protein, and other minerals. Another toxin in the malanga plant is asparagine, which has been known to cause several kinds of cancer and can affect the kidneys as well.
So while you may know not to chew the leaves, and know that the root is edible, the dog doesn't know that. OTOH, after a bit of a chew on a leaf, the dog usually stops…
Subscribe to feed